Tina Turner's Death: Her Son Ike Had Not Spoken to His Mother in Decades
Tina Turner's Death: Her Son Ike Had Not Spoken to His Mother in Decades Ike Turner and Ike Turner Jr. | Source: Getty Images Ike Turner and Tina Turner's son, Ike Turner Jr., traced his parents' legacy and forged a career for himself in music. After the toxic relationship between his parents ended, Ike did…
Tina Turner's Death: Her Son Ike Had Not Spoken to His Mother in Decades
Ike Turner and Ike Turner Jr. | Source: Getty Images
Ike Turner and Tina Turner's son, Ike Turner Jr., traced his parents' legacy and forged a career for himself in music. After the toxic relationship between his parents ended, Ike did not hear from his mother, who relocated to Europe.
Ike Turner Jr. is a Grammy-winning producer and musician who has shared the stage with his father. Ike Jr.'s biological mother was Lorraine Taylor, and her relationship with his father ended when Ike Jr. was still a child. When his father remarried R&B legend Tina Turner, Ike Jr. finally got a glimpse of what having a mother was like.
The producer's upbringing was volatile, and the instability was prevalent in the Turners' lives, with one of his siblings dying to suicide and his father losing his life to a drug overdose. And on May 24, 2023, Tina passed away. The Turners' life story from Ike Jr.'s stepmother's perspective is available on HBO in a documentary titled "Tina."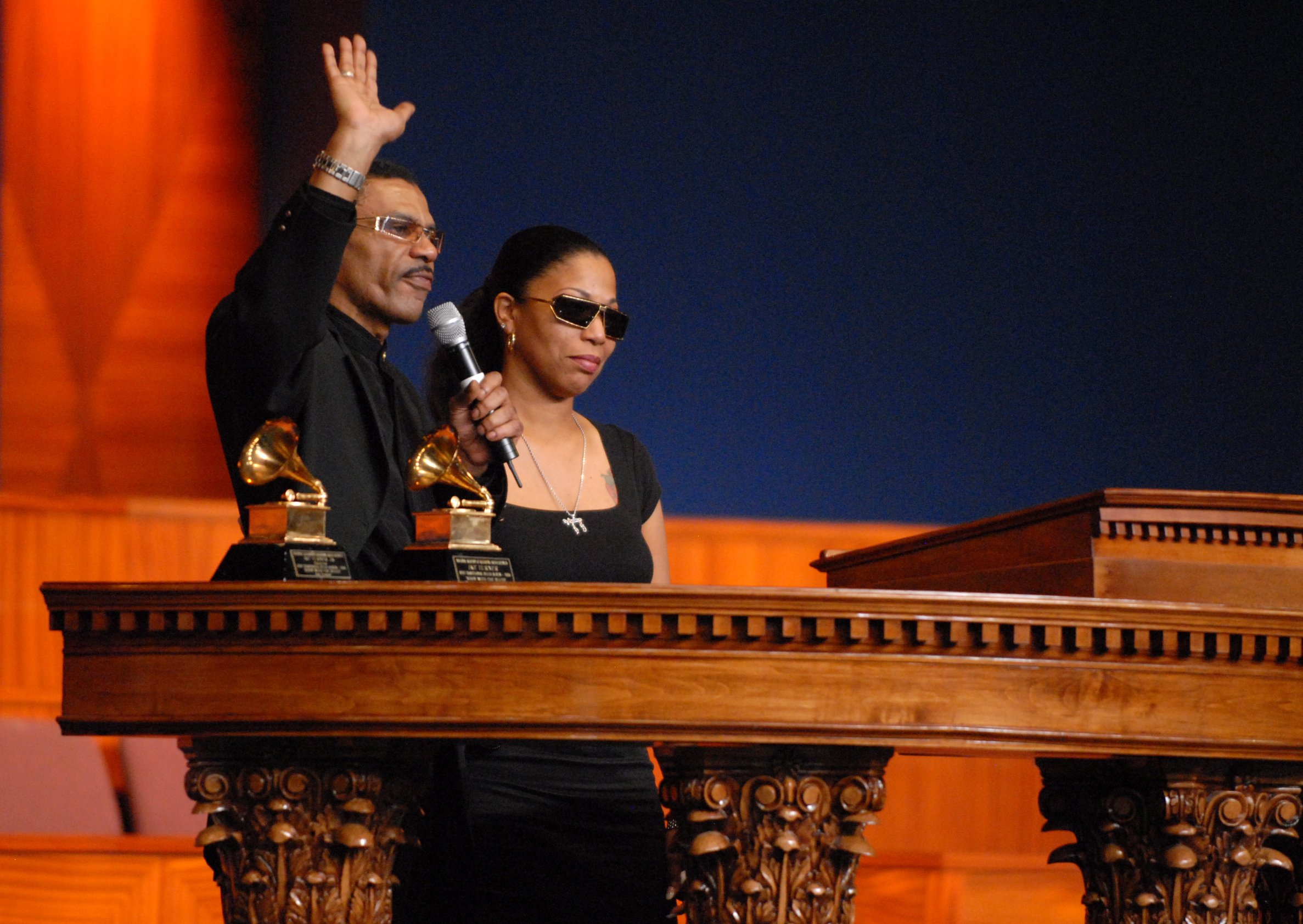 Ike Turner Jr. and Mia Turner during the memorial service for their father, Ike Turner, at the City of Refuge Greater Bethany Community Church, in Gardena, California, on December 21, 2007. | Source: Getty Images
Ike Jr. was one of the two kids adopted by Tina when she wed his father, Ike, in 1962. After his birth in 1958, Ike Jr. was raised by his stepmother and recognized her as the only mother he knew. Ike Jr. has followed in his father's footsteps as a musician.
Tina adopted Ike Jr.'s brother Michael, born in 1959, one year after the birth of her only biological offspring with Ike, Ronnie Turner. Michael is not much of a public personality like the rest of his family; hence there is little information about him available to the public.
Ike Jr. has succeeded on the highest level as a musician. In 2007, he was credited for making the best traditional blues album at the 49th Annual Grammy Awards show. The winning album, "Risin' With The Blues," was released on September 12, 2006, and competed against albums by Dion and Tab Benoit.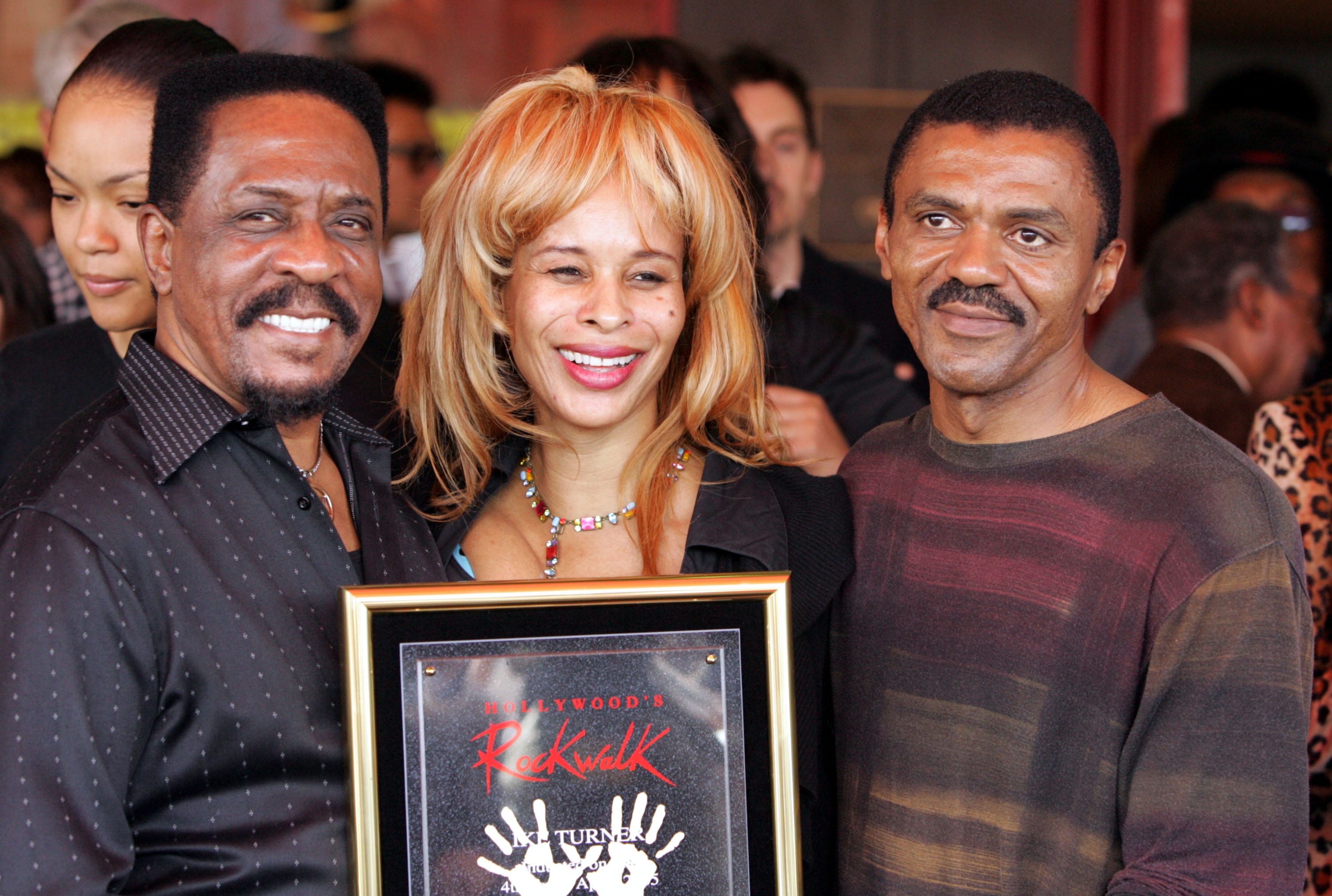 Ike Turner, Audrey Madison, and Ike Turner Jr. at Ike's induction into the Hollywood Rockwalk in Hollywood, California, on April 4, 2005. | Source: Getty Images
Ike Turner Jr Knew No Other Mother than Tina Turner
Tina played a crucial role in Ike Jr. and his brother Michael's lives when they were younger. She was their mother figure, even though she was their adoptive stepmother. Their father and Tina were married for 16 years, between the early 1960s and the late 1970s, proving that Tina cared for them in their childhood.
Ike had been married to six women, including Tina. Although Ike Jr. and Michael may have endured a constant change in the mother figure department, it never deterred them from seeing Tina as the one. However, due to Tina and Ike failing to see eye-to-eye, their marriage ended sourly.
Their constant absence in the children's lives meant housekeepers practically raised them. After years of violence and abuse at the hands of Ike, Tina fled, turning her back on the children and her husband for good.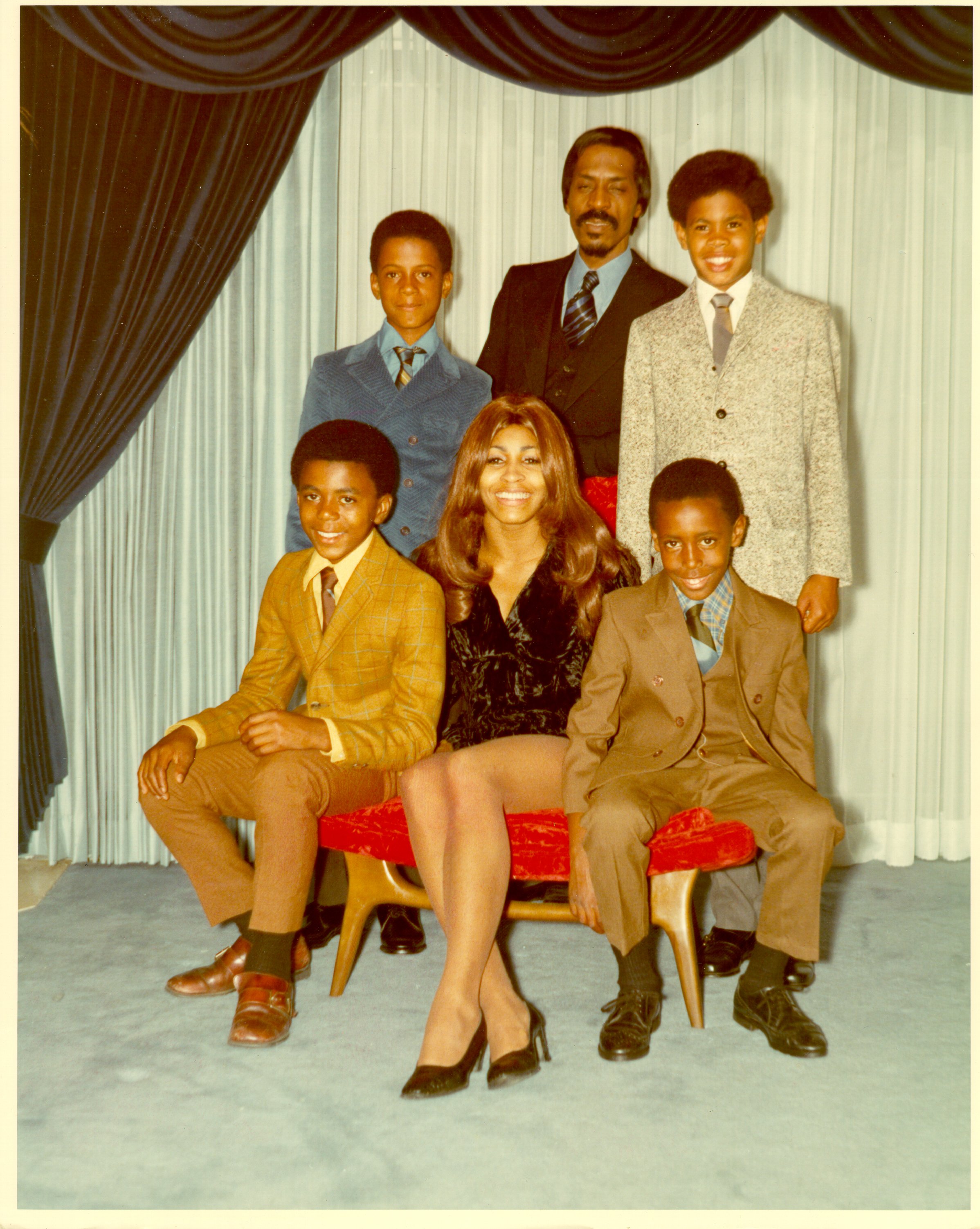 Ike & Tina Turner with their children: Michael Turner, Ike Turner, Jr., Craig Hill, and Ronnie Turner, circa 1972, on January 01, 1972. | Source: Getty Images
Ike Jr. learned the music industry under his parents' wing. They took him out of school as a child and pushed him into a support role for their careers. The only child that they are both biological parents of, Ronnie, turned out to be an actor.
He was cast in "What's Love Got to Do with It," a film about his mother's career and escape from Ike. Before his death in December last year, Ronnie was married to Afida Turner for 15 years, welcoming one child.
Ike Turner Jr. Has Been in the Music Industry since Childhood
As mentioned before, Ike Jr learned everything about the music industry from his superstar parents. He took all the experience and curated a Grammy-winning career for himself. Despite his tender age, Tina and her husband assigned him significant responsibilities. He explained:
"My father took me out of school at 13. I ended up running his recording studio plus going on the road with them. They made a lot of money on tour, and my father used to make me count it until my hands were grey."
Ike Jr. did not have the smoothest journey working for his parents, as sometimes the abuse was directed at him. He once recalled when his father assaulted him because he began working as his mother's sound engineer.
Ike shares the credit he got from the Grammys with his son for one of the two Grammy awards he won. Aside from winning Best R&B Vocal Performance by a Group in 1972, Ike also won Best Traditional Album in 2007. The latter was awarded for an album that Ike Jr. produced for his father.
After winning the Grammy with his father, Ike Jr. started a band called The Love Thang. He said he always tried to do the right thing and represent himself with his best efforts. In 1987, Ike Jr. released an electronic-funk album called "Hard Labor." The LP consisted of eight songs co-produced by Carol Simmons.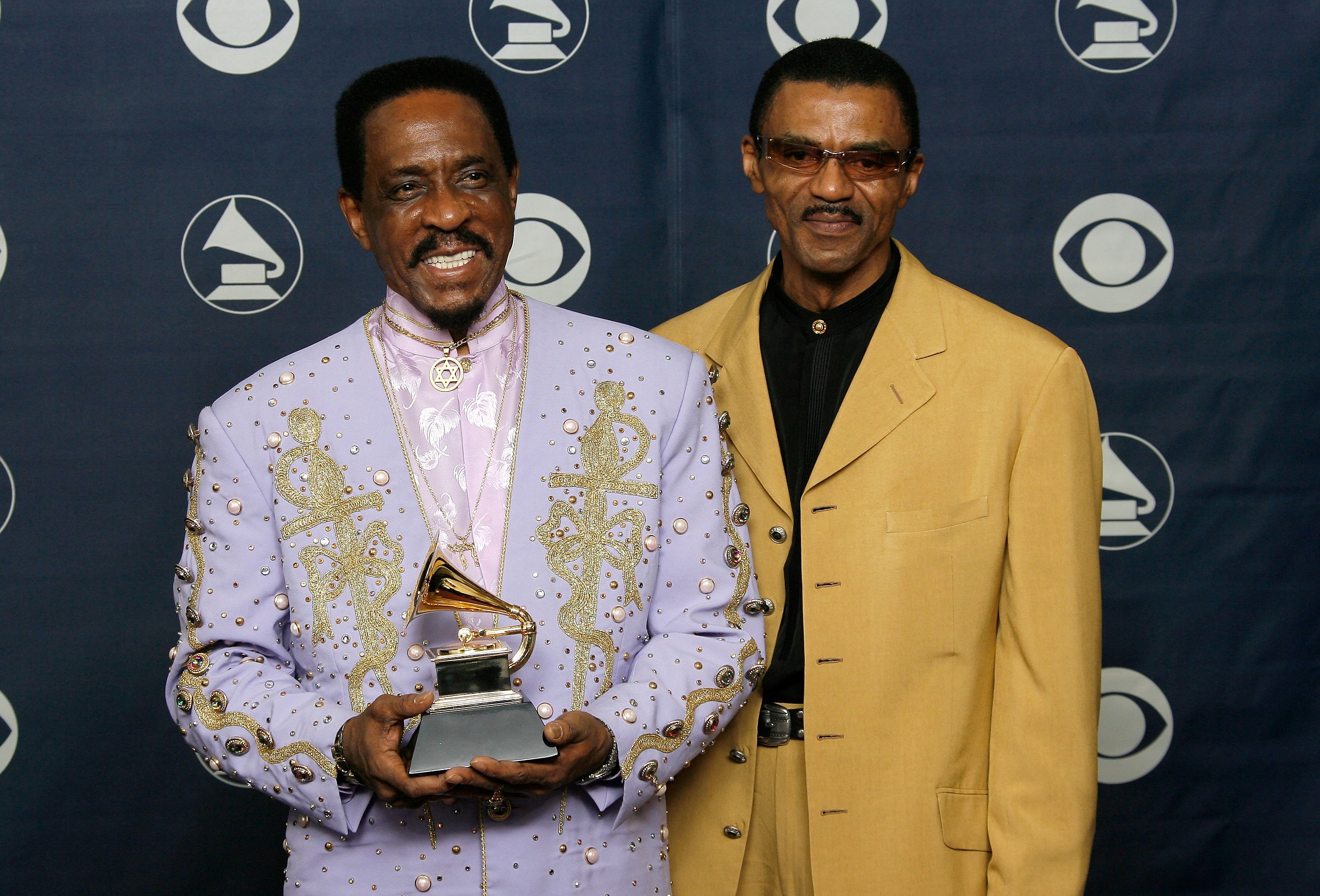 Ike Turner and Ike Turner Jr. after winning a Grammy for Best Traditional Blues Album. Ike Turner's album "Risin' With The Blues" took the award at the 49th Annual Grammy Awards, hosted at the Staples Center in Los Angeles, California, on February 11, 2007. | Source: Getty Images
Ike Turner Jr. Did Not Have a Warm Relationship with His Parents
After Tina fled Ike's house in the 16th year of their marriage with nothing but a few cents in her pocket, she never turned back. Ike Jr. once noted that the last time he spoke to his mother, Tina, was around 2000; since then, he doubted that any of his siblings had heard from her.
According to Ike Jr., his mother relocated and settled in Europe. Reports claim that she married German producer Erwin Bach in 2013, and they lived in Kusnacht, near Zurich, Switzerland.
Unfortunately, Tina passed away on May 24, 2023. The Queen of Rock and Roll's spokesperson revealed that she died peacefully after a "long" yet undisclosed illness. She was 83.
Ike lost his life in December 2007 due to a drug overdose. He had been battling with drug addiction for decades.
Ike Jr. forgave his father for the wrongs he had done in his life and noted that he wished Tina had taken the opportunity to forgive him too. He added that his brothers Ronnie and Michael were doing okay, although Michael needed medical support; however, it is established that Ronnie is now dead, and nothing is known about Michael.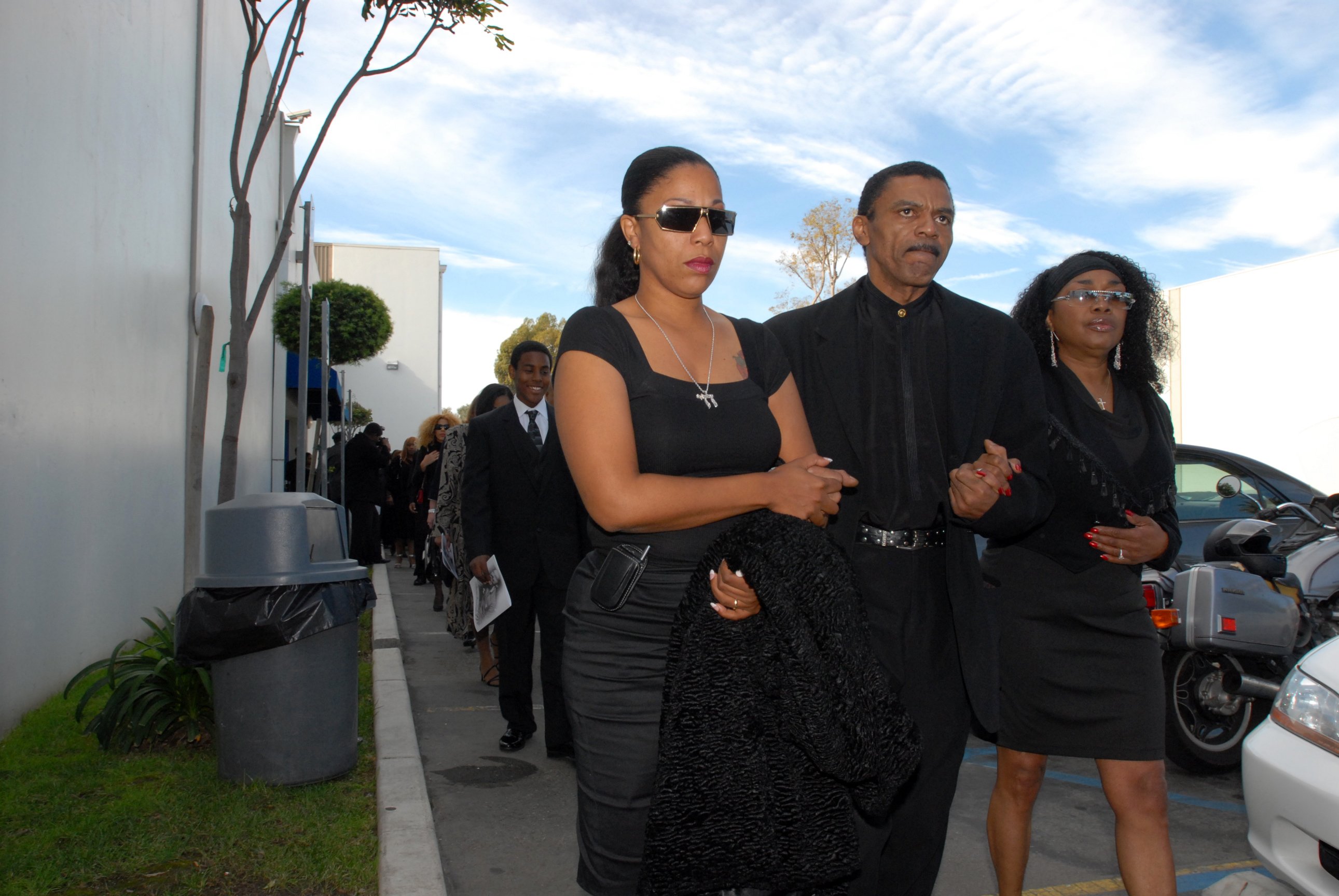 Ike Turner Jr., Mia Turner, and Mary Ellis, at the memorial service of Ike Turner, hosted at the City of Refuge Greater Bethany Community Church in Gardena, California, on December 21, 2007. | Source: Getty Images
After all the drama-filled years Ike's family endured, their story manifested into a TV documentary called "Tina." The film marked the end of Tina's career and the beginning of her hibernation away from the US media. Although exquisitely produced and performed, many people felt the story needed to be completed.
The HBO documentary does not depict Tina as a mother. Sources believe she shied away from that chapter as it did not paint her gloriously. Ike Jr. and Michael were not happy to be left out of the project as well. The documentary, starring Angela Bassett and Oprah Winfrey, only shows the sons in archive footage. Rest in peace, Tina.
If you or someone you know is considering suicide, please contact the National Suicide Prevention Lifeline at 1-800-273-TALK (8255), text "help" to the Crisis Text Line at 741-741, or go to suicidepreventionlifeline.org.