'American Idol' Winner Iam Tongi's Parents Supported His Music Career
'American Idol' Winner Iam Tongi's Parents Supported His Music Career Iam Tongi's parents, Lillie and Rodney, have played a significant role in their son's success. While Iam Tongi's mother has been by his side during his whirlwind "American Idol" journey, Iam Tongi's father inspired his son's passion for music before his passing. Originally from Kahuku,…
'American Idol' Winner Iam Tongi's Parents Supported His Music Career
Iam Tongi's parents, Lillie and Rodney, have played a significant role in their son's success. While Iam Tongi's mother has been by his side during his whirlwind "American Idol" journey, Iam Tongi's father inspired his son's passion for music before his passing.
Originally from Kahuku, Hawaii, Iam Tongi has quickly risen to fame for showcasing his incredible voice and moving background on the 21st season of the acclaimed reality singing competition, "American Idol."
However, Iam Tongi proved he was no ordinary contender when he stepped onto the stage for his audition, leaving celebrity judges Lionel Richie, Katy Perry, and Luke Bryan in tears. His powerful emotion-filled performance captivated the panel and the entire audience.
After going on "American Idol," Iam Tongi's social media following skyrocketed from 8,000 to nearly 700,000 at the time of writing. With an audition video that has received millions of views—the season's most-viewed audition—Iam Tongi has already started to gain public recognition.
Iam's talent landed him a spot in the final of the singing competition television series. And during his battle for the win against Megan Danielle and Colin Stough, Iam left the crowd chanting his name after performing Keith Urban's "Making Memories of Us."
After making it to the final two, Iam took home the win and smiled radiantly as Ryan Seacrest announced him as the winner of "American Idol." Donning a Hawaii-themed shirt in honor of his homeland, Iam and Megan embraced in the name of good sportsmanship.
From the start of his "American Idol" journey, Iam has opened up about his parents' significant role in his success. While he left his mother beaming with pride, Iam was able to live up to the expectations of his father, who always believed in his son's talent.
Iam Tongi Lost His Father before 'American Idol' Audition
In February 2023, Iam returned to the "American Idol" audition room in shorts, a black shirt, and what has become his signature brown guitar. He was there with his supportive mother and revealed that his father had passed away a few months prior.
Before his dad died, Iam would often whip out his guitar, and the father/son duo would enjoy a jamming season together.
In honor of his father's death, he performed "Monsters" by James Blunt for his audition and dedicated the performance to his father. During his emotional song rendition, Iam left the judges visibly moved as Lionel and Luke wiped away tears.
Rodney was the reason his son got into music. When Iam first landed an audition for "American Idol," his father was so delighted that he told everyone. However, during an interview, Iam joked about his father's reaction after learning that he did not progress further than the initial audition screening.
"He was like, 'Son, I need to talk to you. You need to work on your music," Iam recalled. Although Rodney held high expectations for his son—including making Iam memorize songs before they sang together—it did not get in the way of their bond. Iam said:
"My dad, he wasn't a perfect dude. He wasn't like a saint or whatever. But he was the best father that I know. And I want everyone to know that he's a tough guy. He always told me the truth, (and) he always loved me. And I always loved him too."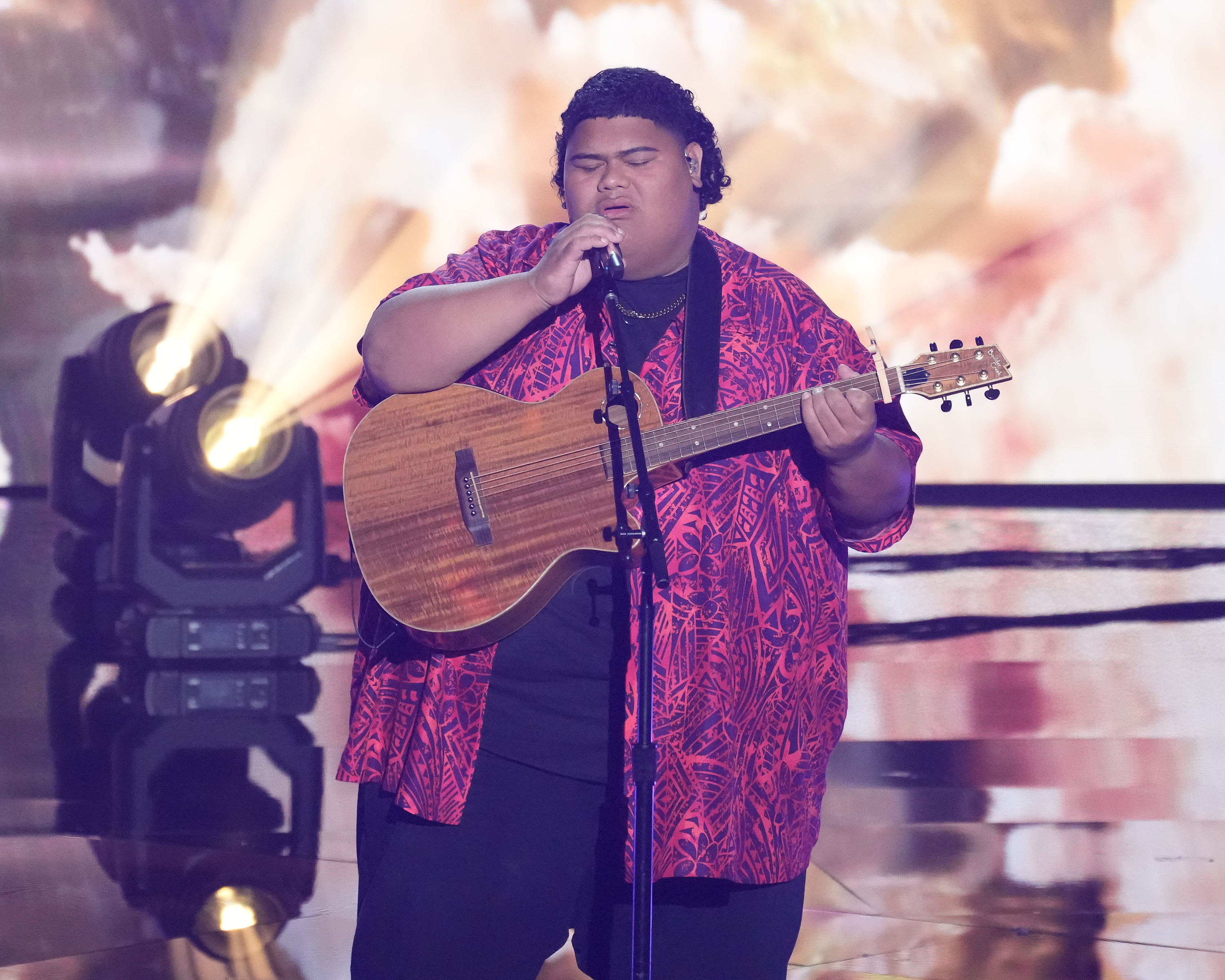 Iam Tongi performing during the season finale of "American Idol" on May 21, 2023. | Source: Getty Images
Before his dad died, Iam would often whip out his guitar, and the father/son duo would enjoy jamming seasons together. In December 2020, Iam took to Instagram to share a video of himself strumming the guitar as he and his father delivered an impressive cover of "Ooo… baby baby" by Smokey Robinson.
Iam posted a video of another one of their performances in May 2021, and it received over 20,000 likes at the time of publication. One of Rodney and Iam's most recent performances was in December 2021, when they delivered a cover of "One More Day With You" by Diamond Rio.
Even though his father is gone, Iam still feels his father's presence and hears him harmonizing with him while singing. He said, "Because I was singing with my dad (for) so long, I hear the harmonies. I can hear how he would sing to it. … I think that's why I love it so much now."
Iam Tongi's Mother Is Also a Special Person in His Life
Lillie is one of 12 siblings, and on Iam's big day, auditioning for "American Idol," she was there to support her son with their large family. And she has remained by his side every step of the way since.
Aside from Iam, Lillie has four children. In October 2020, Iam took to Instagram to share three pictures of the family of seven and captioned the post, "No bond greater than Family." In the first slide, the Tongi family posed for the camera in matching black shirts and wore giant smiles in the second.
In the last slide, Iam took a trip down memory lane and posted a throwback and him and his siblings. On May 14, Iam killed two birds with one stone as he dedicated an Instagram post to his mother in honor of Mother's Day and urged fans to vote for his win.
"Mother's Day would be awesome if you watch the special performances on American Idol tomorrow," he captioned the post in part. Before Iam's surprise win, his mother revealed that regardless of the outcome, her son was a winner in her eyes. Lillie said:
"For now, it doesn't matter to me where he goes because I feel like he's already won. He's gotten way farther than we ever expected."
A few days before the "American Idol" finale, Iam and his mom dedicated a thank you message to all the voters and Hawaiian natives who backed Iam. Toward the end of the message, Lillie sang a few notes, further thanking the fans and joking that she was the actual singer in the family.